That is right, people, this is my 400th post. Can you believe I've been around for that long? Neither can I.
So I thought we'd take a trip down memory lane and see where this magic all began.
After the birth of Eloise, we emailed photos and video to our family and friends but it just became too tedious. So Alex suggested we start a blog. Our family and friends could easily stay updated and everything would be kept nice and tidy in one place.
Here's post #1.
There were 23 posts in 2007.
I wasn't too enthusiastic at first. I occasionally would post but didn't think I had much to share.
Here's another look of the blog
. 2008 brought us 83 posts. This is of Eloise and her cousin Cici taking some first steps. Can't believe they were once that small.
And slowly but surely, I became addicted to the blogosphere. It has morphed into a diary of sorts. A place to share not only about my children but also my thoughts and feelings. And it's been loads of fun.
One more look of the blog.
89 posts in 2009. Here's Maggie and Tim's wedding. Almost 1 year ago today. Happy 1 year anniversary! So far in 2010, I've posted 167 times. Wow!
And so to celebrate my 400th post, I thought I could do my first giveaway. No, no IPad here. No Photoshop nor Kitchen Aid mixer. Instead I thought a candy bar would be most appropriate for this blog. I love candy bars, so I thought I would share one with you.
But after discussing this over breakfast, Alex and I decided mailing chocolate was a big bad idea. So, what's my second favorite candy? Haribo gummys of course. So, if you comment on this here post, I will choose at random one winner to receive some Haribo gummys. A small, simple, and silly way to celebrate my 400th. Gets me thinking, what might be appropriate for my 500th post?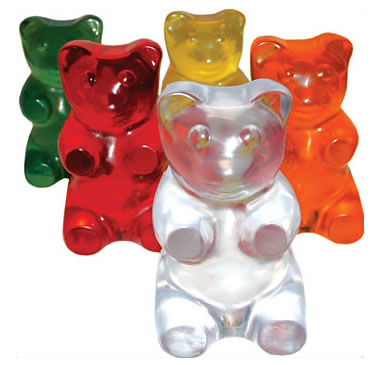 Happy 400th post from me to our family and friends around the world!